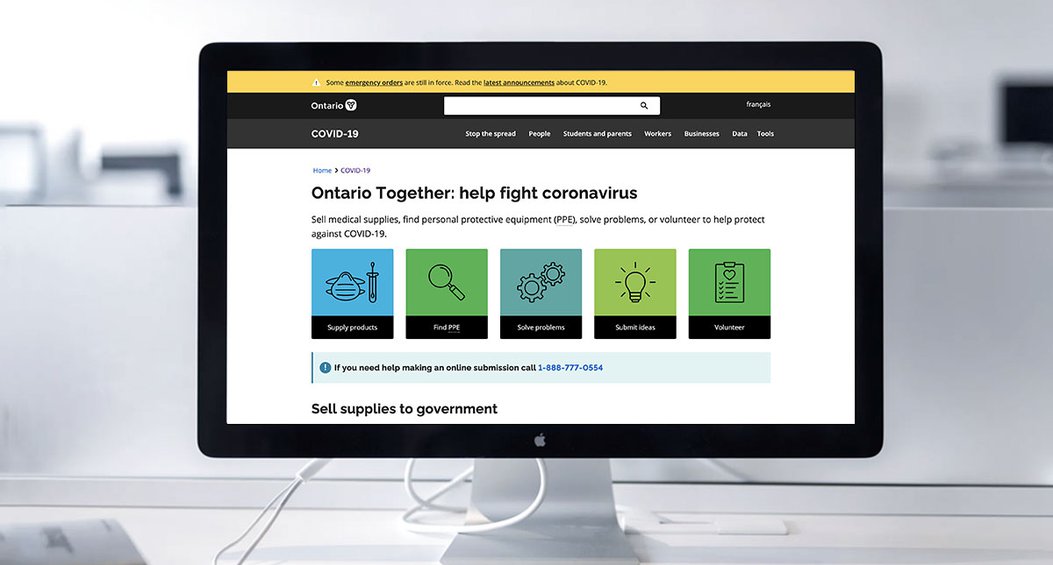 ​The Ontario Together Fund: What Your Business Needs to Know
In order to mitigate the spread of the coronavirus (COVID-19) pandemic and help businesses with their operations, the Ontario government announced the $50 million Ontario Together Fund on April 1, 2020.

The stated goal of the fund was to help businesses find the solutions and tools required to create essential medical equipment and supplies. Such items pertain to masks, ventilators, gowns, and face shields.
Who is eligible for the Ontario Together Fund?
A business may be eligible for the Ontario Together Fund if their submission could aid in the adoption of technological changes. At the forefront of these changes is the need to produce equipment and supplies for the healthcare sector. Other submissions that would help critical public services would also be considered for funding.
Supplies that businesses can either offer or donate to help fight against COVID-19 include gowns, thermometers, swabs, masks, and eye protection gear.
In terms of innovative ideas that can fight the impacts of COVID-19, the Ontario Together Fund is encouraging submissions in either English or French. Information such as the name of the proposal, proposal summary, estimated total cost, and the project timeline should be provided before sending in an idea.
Read also: The canada emergency business account program.
"Our entrepreneurs, businesses and workers are stepping up and unleashing the full strength of Ontario's manufacturing might ― sometimes doubling or tripling their output and working modern-day miracles in the fight against COVID-19," Premier Doug Ford said.
Ford added how the government is proud to partner with local manufacturers when it comes to establishing a gold standard for medical supplies and equipment.
Vic Fedeli, the Minister of Economic Development, Job Creation, and Trade, agreed with this sentiment. "Ever since the COVID-19 outbreak began, Ontario businesses
have shown incredible collaboration, resilience and determination to tackle this crisis," he said. "Many of our innovators have stepped up to help produce much needed medical supplies."
Fedeli noted how the province is in the first stage of restarting the economy. He encouraged businesses to continue with their innovations while reviewing the provincial safety guidelines. Such guidelines should be followed to protect the health and safety of workers in the new environment.
How can individuals volunteer to help the Ontario community?
There are various volunteering opportunities that individuals can partake in with non-profit organizations in order to help mitigate the impact of COVID-19.
This includes volunteering for food delivery services, helping with the delivery of medicine, as well as helping organizations and individuals with errands. The official Ontario Together Fund website lists SPARK Ontario as a useful page to visit should an individual wish to participate in philanthropic activities.
As a project led by Findhelp Information Services, as well as a page funded by United Way Greater Toronto, SPARK Ontario's mission is to bring non-profit organizations and volunteers together in order to get individuals involved in activities that go well with their lifestyles. By aggregating opportunities, the online volunteer gateway is an accessible website that aims to improve Ontario communities. Opportunities are posted on a frequent basis.
Read also: The canada emergency commercial rent assistance program.
What can businesses do to ensure financial success during uncertain times?
As a business leader, it is important to update and amend goals, especially during these uncertain times. There are various measures announced by the Government of Ontario and Canada to aid companies.
The Work-Sharing Program, for example, can help businesses and workers in terms of layoffs and staff reductions. It is a measure that supports employees who are eligible for Employment Insurance (EI) benefits.
In addition, businesses can get a penalty and interest relief of five months when it comes to filing and making payments for select provincially administered taxes. The timeline of this relief measure is between April 1, 2020 and August 31, 2020.
Taking these measures into account, as well as the economic climate that many clients currently face, the Prasad & Company LLP team is available to provide professional guidance on business strategies.
The team prides itself in its ability to always serve clients and provide the level of quality businesses have come to expect from the firm. As a proudly Canadian accounting firm with over 35 years of experience, Prasad & Company LLP provides a full range of services to business and professional clients, as well as individuals and their families across the globe. The firm may be reached at 416-226-9840 or 1-888-550-TCAS.