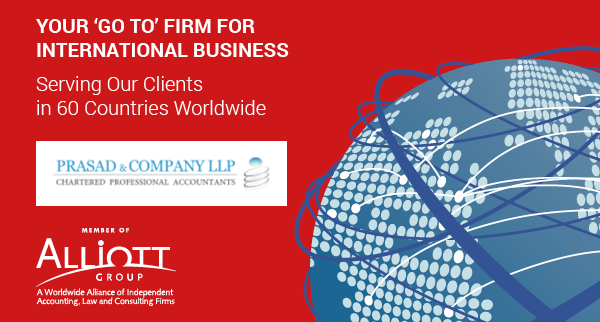 Alliott Group and Prasad & Company LLP Form an Affiliation
PRESS RELEASE
Prasad and Company LLP Targets Further Firm Growth and Enhanced Services for Clients by Joining International Alliance Alliott Group
Membership of Alliott Group expands Prasad and Company's reach to over 60 countries worldwide.
14 February 2018, Toronto – Thornhill, Ontario based accounting, tax and business advisory services firm Prasad and Company has been selected to represent international alliance Alliott Group exclusively in the Ontario marketplace.
The strategic move gives Prasad and Company access to a depth and breadth of resources across North America and in over 60 countries worldwide that will enable the firm to develop its client base into new overseas markets and to join up their services in foreign jurisdictions for their existing business and individual clients with greater confidence.
Read also: Small business owner tax break; drop to 9% by 2019 .
The tie-up enables Alliott Group to add greater strength to its global membership of 145 accounting and law firm members, including 22 in North America. In Canada, Alliott Group is also targeting further representation, with members currently including Vohora LLP (Vancouver), Hardy Normand et Associés (Montreal) and now Prasad and Company in Toronto/Ontario.
Alliott Group's CEO James Hickey comments: "Our business model is focused on bringing together growing independent firms across the world that think bigger and therefore need access to a larger resource base. Prasad and Company is aligned with our vision and we look forward to giving their staff the support they need to grow and to reach their long-term objectives so that they will have real options in their market place in the future. Furthermore, the mind set and tax and related skillsets they bring to the alliance will be invaluable."
Managing Partner Pramen Prasad adds: "We are experiencing growing demand from our clients for tax and legal advice to be provided in various countries around the world. Joining Alliott Group enables us to remain as an independent, single office firm, but to extend our reach exponentially to some 180 cities worldwide through close collaboration with member firms similar in profile and outlook to Prasad and Company. We recently attended the alliance's North America Leadership Conference in Arizona and returned re-energized with new knowledge and new professional contacts."
Read also: Ontario proposes new minimum wage increase.
Prasad and Company is a two-partner firm with 27 employees who speak several languages that include Mandarin, Cantonese, Spanish, Portuguese, Russian and Punjabi. The firm provides a full range of services including business advisory, assurance, tax preparation, and estate and business succession planning. Staff offer in-depth understanding of Canadian, U.S., and international tax planning, financial and management accounting/reporting, and wealth preservation and management to businesses and personal clients.
About Prasad and Company LLP
Prasad & Company LLP is an innovative family-style boutique firm serving the Greater Toronto Area since 1955. Our support and expertise in the areas of Assurance, Tax and Advisory have helped our clients thrive in their specialized interests. We pride ourselves on being hard-working, approachable, honest and always ahead of the curve in all aspects of our industry. Contact us at www.prasadcpa.com
About Alliott Group
Founded in 1979, and with some 145 member firms in 60+ countries, Alliott Group (www.alliottgroup.net) is an award-winning international association of independent accounting and law firms that need deeper levels of cross border resources to develop reputation, visibility and new business. Alliott Group provides services to help its member firms to position themselves as the 'go to' firms in their local markets for businesses and private individuals with multi-market business interests.
For more information
To find out more about potential membership of Alliott Group or for professional assistance from our member firms around the world, please contact Alliott Group's Head of Worldwide Marketing, Giles Brake (giles@alliottgroup.net) or visit our website (www.alliottgroup.net).